This year's Corus Caring Hearts Radiothon
is going Virtual
on Thursday, August 20th
from 6am to 7pm
Follow Live From Home by tuning into 104.5 Fresh Radio & following us on Facebook
Don't have a radio at home, no problem, Download the Radio Player Canada App and listen from any device!
You can help our front lines!
Call 613-865-7200
to make your donation or
There are Six Radiothon DONATION drop-off locations from Ingleside to Lancaster
From 9 a.m. to 3 p.m. – Bring an envelope including your donation and contact information (all donations over $20 will receive a charitable receipt by mail) to one of six local drop-off locations across SDG!
Rozon Insurance, 150 Military Road, Lancaster – drop-off box at Main Entrance
Dairy Queen Cornwall – Top up your order with a donation at Drive-Thru or cash
Starbucks Cornwall – Drive-Thru station
RE/MAX Cornwall, 649 Second Street East – Drive-Thru station
O'Neill's Pub, 29 Long Sault Drive, Long Sault – Drive-Thru station
Fine's Home Hardware, 9 Thorold Ln, Ingleside – Drive-Thru station
DONATE ONLINE, ALL DAY!
Aside from our Cogeco Business Solutions hotline at 613-865-7200, you can help support our Radiothon donate online all day at www.cornwallhospitalfoundation.ca
Corus Radio Cornwall is proud to support the Cornwall Community Hospital Foundation with the this years Corus Caring Hearts Virtual Radiothon! Since 2006 the community has raised over $1,000,000.00 in support of the Cornwall Community Hospital Foundation, helping to bring important pieces of equipment, new services, and facilities to our hospital.
Grateful COVID-19 patient says CCH saved her life:
Earlier this week, a former COVID-19 patient who spent 3.5 weeks in a coma at CCH this spring consented to share her story with our community. The patient contracted the virus from a trip to Florida and was transferred from Hawkesbury General to CCH since she needed more intensive care than that facility could offer, including ventilator support. Between Hawkesbury General and CCH, the patient was in hospital for over 50 days before being well enough to recover at home. When asked about CCH, she emphasized how grateful she is for our hospital's care and for the physicians and staff she credits with saving her life.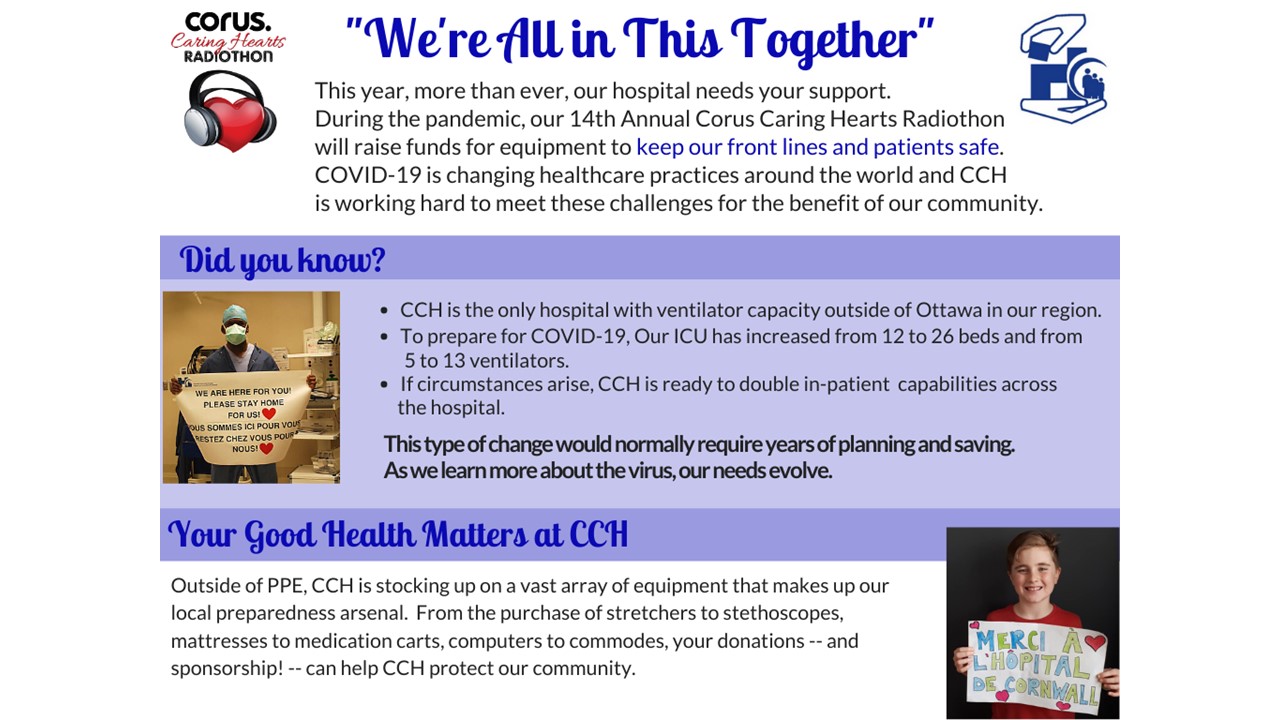 Thank you to our Sponsors
| | | |
| --- | --- | --- |
| | | |
| | | |
| | | |
| | | |
| | | |
| | | |
| | | |
| | | |
| | | |