Enter for your chance to win!
How would you like to show your support for the SVTC with your morning coffee? One of our young members, Jacob Pilon, has come up with an enterprising way to generate revenue for us: these handsome mugs you see here.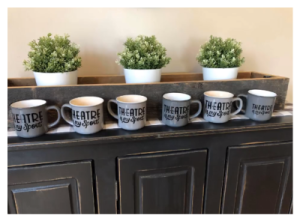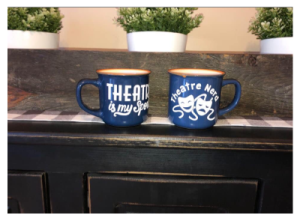 Jacob will be at Le Fleuve, one of Cornwall's new pop-up shops on the corner of Pitt and First Streets, on Friday, August 14th, (next to the Cornwall Square's parking garage) from 10:00 AM to 6:00 PM.
At $10.00 apiece, these mugs are attractive additions to any table or cupboard, and they make great gifts for your favourite theatre lover, too. All profits will be donated to the SVTC.
But wait! There's more! Jacob and his family have organized a fundraising drive for the company which includes a draw for a big basket o' goodies from several local businesses totalling more than $1,100.00. (!) Here's what you could win:
– A $25.00 gift card from Peek-A-Boo
– A $25.00 gift card from Kings and Little Ones
– From Edward's Bistro, a $25.00 gift card and one pound of coffee (a $15.00 value)
– A $25.00 gift card from Truffles Burger Bar
– A $25.00 gift card from Kid's Korner
– A $25.00 gift card from the Best Western Parkway Inn, redeemable at either Hops and Barley Restaurant and Lounge or           Winners Sports Bar
– A $50.00 gift card from Simply Wellness
– A $50.00 gift card and a $10.00 oil bracelet from Button Up Jewellery
– A $25.00 gift card from Tilly's Eatery and Delicatessen
– A $100.00 gift certificate from O'Neil Studios (equal to four lessons for any musical instrument they teach)
– Two cakes from Cowan's Dairy Cornwall (a $56.00 value)
– A theatre masks pendant from Pommier Jewellers (valued at $60.00)
– A $25.00 gift card from Sweet Legs
– A $10.00 Scentsy gift card
– A set of earrings from Quilling It (valued at $10.00)
– A Hamilton Beach juicer donated by Katie and Dave Ridell (valued at $55.00)
– A pickleball set (valued at $100.00)
– A bottle of wine and two matching glasses (valued at $20.00)
– From Mike's Printing and Apparel, a 50% discount coupon for an entire order and a $25.00 pillowcase
– From Starbucks Cornwall, three bags of coffee and a mug (a total value of $40.00)
– A salt lamp (valued at $20.00)
– Two eight-inch cakes from Dairy Queen Grill and Chill Cornwall (a total value of $60.00)
– Six bars of Ground Soap (a total value of $60.00)
– From Thirty-One, a mini zipper pouch (valued at $20.00) and $10.00 in Bag Bucks
– A baby quilt donated by Allison Main (valued at $75.00)
– A decorative sign from Marlin Orchards (valued at $30.00)
– Various items from YourTV Cornwall
– A family game (valued at $5.00)
– A theatre mug as described above (valued at $10.00)
– Two SVTC mugs (valued at $5.00)
– Five meals from Gaetan's Chip Stand (a total value of $50.00)
– Four masks and a dish cloth donated by Joy Krol (valued at $10.00)
– A book of poetry donated by Jenna Clute
– Two decorative signs from Kalem's Corner
– A one-hour massage from KK Massage Therapy
– A selection of hair care products from The Loft Salon
– Various items donated by Rachel Noon
– A milk frother from Cristill Rock Water and Coffee
– A Michael Kors purse and two electric toothbrushes from Dr. Rachel Navaneelan
– From The Happy Popcorn Company, a t-shirt and a bag of dill pickle popcorn
– From Marika's Decadent Cakes and Cupcakes, a gift card for a dozen cupcakes (valued at $20.00)
– From Ride Indoor Cycling, a gift certificate for two months of spin classes
– A $40.00 gift card from Love and Lee Bridal
– Two glasses and a comic book from Fantasy Realm
– A basket of candy from Short Line Convenience and Video
A $5.00 donation will give you one entry, $10.00 will give you five, and $20.00 or more will give you ten. Exceptionally good odds, indeed. And not only are you supporting the SVTC, but all manner of other local retailers and services that are worthy of your support. If you can't get into the downtown core on the 14th but would still like to donate and be put in the draw, hit the button below to donate via PayPal or your credit card.