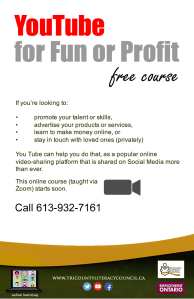 Tri-County Literacy Council is offering a free course called "You Tube for Fun or Profit". This is a 3-week online class that runs Monday to Thursday 10 am to 11am for 3 weeks, starting November 23, 2020.
If you're looking to:
-promote your talent or skills,
-advertise your products or services,
-learn to make money online, or
-stay in touch with loved ones (privately)
You Tube can help you achieve that. This free online video-sharing platform is one of the most popular content formats regularly shared on Social Media. As the world heads online and sales surge during this Covid-19/Coronavirus pandemic, take advantage of this free, valuable resource for financial gain. Or, learn how to create private videos to stay in touch with family and friends.
This online course (certificate program) is taught via Zoom (an easy-to-use online platform). If you have access to a computer (with camera and microphone), an Internet connection, email address, and basic computer skills, this training is for you.
For more information, call 613-932-7161.